News
Smart Meter Rollout: ITC AG presents customer portal for metering point operators
New portal functions especially for measuring point operators (MSB) - power consumption from iMSys is provided online quickly, clearly and cost-effectively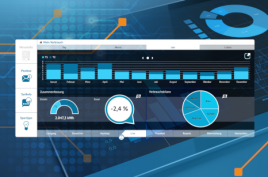 ITC AG offers an innovative solution for the smart meter rollout especially for metering point operators (MSB): the new portal functions of the online customer portal ITC PowerCommerce® MSB. It is available as an independent portal solution (gMSB/wMSB portals) or as an extension for existing ITC portals.
ITC PowerCommerce® MSB - innovative online customer portal
With the installation of intelligent metering systems (iMSys), metering point operators are obliged to evaluate the personal metering data of the end consumer. By 2032 at the latest, smart meters must be installed for consumers with a consumption of more than 6000 kWh. Thanks to the ITC customer portal, MSB can offer their consumers more transparency and uncomplicated access around the clock. The new MSB functions can be used by private, business, bundled, industrial and municipal customers, for example.
"All metering point operators benefit from the new MSB functions. Basic functions are available for gMSB to provide content required by the Metering Point Operation Act, such as daily, weekly, monthly, annual consumption and tariff information. For competitive metering point operators there are many additional analysis, monitoring and reporting functions. This also makes the customer portal a platform for value-added services," says Steve Pater, Senior Technical Consultant at ITC AG in Dresden.
Customer-friendly and uncomplicated
ITC PowerCommerce® MSB offers a mature, professional solution. The end user can call up his own power consumption on the PC, tablet or smartphone in a comfortable and user-friendly way, even without technical knowledge. "The information is summarized on an individual dashboard intuitively and easily understandable for the respective connection user", emphasizes Steve Pater. The customer is made aware of how much electricity his technical devices actually consume and can work specifically on their energy efficiency. The German Federal Ministry of Economics and Energy (BMWi) estimates that the visual display of consumption data alone can save more than ten percent electricity.
Established Software
With ITC PowerCommerce® MSB, a further solution for the visualization and analysis of energy data is now available, which is focused on the use in the environment of intelligent metering systems. The same DNA: Due to the close relationship with the energy management platform ITC PowerCommerce® EnMS as well as with the smart meter portal ITC PowerCommerce® SMP, the customer portal inherits the same technical characteristics. ITC PowerCommerce® MSB is therefore easy to integrate, flexibly expandable and can be adapted to the individual corporate design of the MSB. Companies already using the ITC portal can easily activate the new function by additional licensing. New customers can also use it as a stand-alone portal solution.